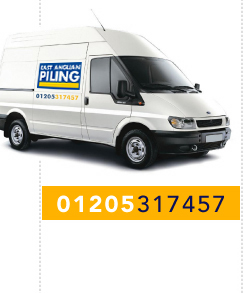 Piling

Mini Piling
Ideal for smaller developments and restricted access bottom driven piles are installed using a D1000 piling rig operated from ground level with a drop hammer weight. Specially produced hollow steel starters are set up in position and driven into the ground. Lengths of tubes are welded in place driven and additional lengths added until the pile reaches firm bearing material below ground level. For internal work the D500 is ideal. With the detachable power unit the Rig can be positioned in the smallest of spaces and is even compact enough to be moved around on a pallet truck.

Auger Piling
Open Auger Piles can be used when vibration and noise may be of concern or in situations where ground conditions dictate. Due to its size and detachable power unit the T5000 auger is ideal in restricted access both internally and externally. Once set up in position the lead flight is installed onto the auger head and the flight is screwed into the ground. Subsequent flights are added until the required depth is reached. The flights are then extracted drawing up spoil, in turn hollowing out a shaft. Once all the flights are out and the required depth has been checked steel reinforcement and concrete can be installed.

Pre Cast Piling
With the arrival of our Clo Zironi Piling rig East Anglian Piling () Ltd are able to provide great value on varying sized contracts. Pre cast piles are suitable in most soil conditions and have reinforcement running through their entire length. Once driven to set and cut to level they are ready to be incorporated into the foundation. The speed of installation allows for reduced time on site and a shorter program.

Thick Wall Tube
Similar in principal to the pre cast piling, thick wall tube is installed using the Clo Zironi top driven rig. Thick wall tube can be driven with either open or closed ends depending on ground conditions. Similarly to bottom driven steel cased piling thick wall tube is filled with concrete and reinforcement along its length to allow the pile to be tied into the ground beam, to be cast on top.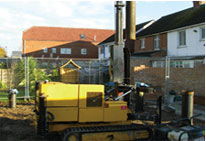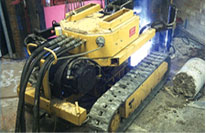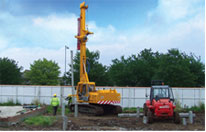 East Anglian Piling Limited, Grand Sluice Depot, Tattershall Road, PE21 9PR. Telephone 01205 317457
Piling • Reinforced Concrete • Testing • Site investigations • Design • House Foundations
© All content copyright East Anglian Piling Limited 2017. Website management by Bray Design